Europes leading Bedlingtonkennel
Champions all over the world
Bedlingtonterriers since 1961
The kennel was founded 1968
We have exported Bedlingtons to following countries:



















China, Denmark, England, Finland, France, Germany, Holland, Italy, Japan, Malaysia, Norway, Polen, Russia, South Africa,South Korea, Spain, Tjeckien, USA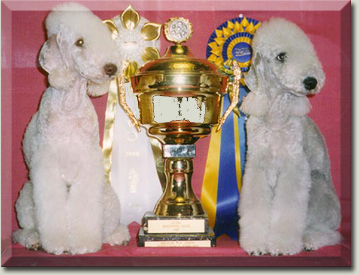 KENNELREWARDS
Breeder of The Year of ALL BREEDS 1980
Swedish Terrierclubs Breedingmedal 1982
Swedish Kennelclubs HAMILTONPLAKETTEN 1985
SKC:s No 15 Breeder Of The Year of ALL BREEDS 1988
Stockholms Kennelclubs Breeder Of The Year ALL BREEDS 1994
SKC:s No 20Breeder Of The Year of ALL BREEDS 1998
SKC:s No 19 Breeder Of The Year of ALL BREEDS 1999
SKC:s No 5 Breeder Of The Year of ALL BREEDS 2000
SKC:s No 3 Breeder Of The Year of ALL BREEDS 2001
SKC:s No 19 Breeder Of The Year of ALL BREEDS 2002
SKC:s No 18 Breeder Of The Year of ALL BREEDS 2003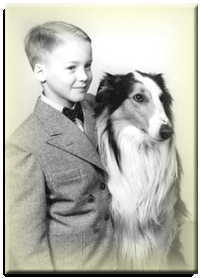 There has allways been dogs in Rolfs family since he was a baby. The first one was a Wire Foxterrier but he was not good with children so Rolfs parents gave him away. After this the parents bought a Collie named Strong. They started to show the dog but he never became a champion.
When Strong died 1960 Rolfs mother wanted a Bedlington. He came the same year from Gothenburg. His name was Havsvikens Hamlet. He was not a showdog.
Rolf and his parents was at this time very much invold with the Swedish Team in Motocross. A cousin to Rolf was in the Swedish Team and Rolf and the family was helping the team with different things like mechanic, cooking and so on. They travelled around all Europe to the big events.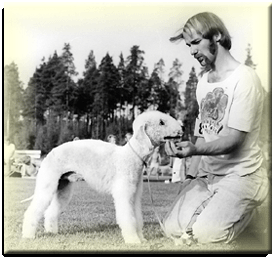 1965 Rolf bought his first own bedlington. This bitch came from Norway and her name was Farriers Bessie. She was not a shining star but became International and Nordic Champion and she was the first broodbitch for Rolfs coming breding.
The first litter was 1968. Three years later the kennelname Bla Skuggans was founded. This kennel is one of Europes oldest still active kennel.
Next dog Rolf imported was the female Marilena Pandora from England 1972. From the beginning it was Rolf alone who was the owner of Bla Skuggans Kennel, but after marriage with Ann-Marie 1975 they are both owners.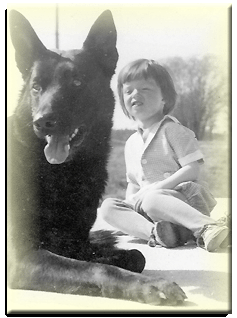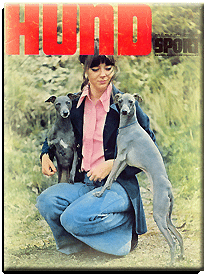 Also Ann-Marie have had dogs in all her life. The first 9 years the family had German Shepards, first Pavo who was a black beauty and then Mucki. Both were working for the police. Up to 1967 the family had a poodle who died 17 ½ years old.

Ann-Maries parents bought a Italian Greyhound and after less than a year even Ann-Marie bought one. It was Benares Hermes. He was of a heavier type but very sound. He easily became International and Nordic Champion.
Ann-Marie bought her next Italian Greyhound 1971 and he carried nearly only Italian bloodline. This was the great showdog International and Nordic Champion Sobers Ior.

Two of his puppies was sold to England to the famous Tamoretta kennel, and a granddaughter was winning the group at Crufts.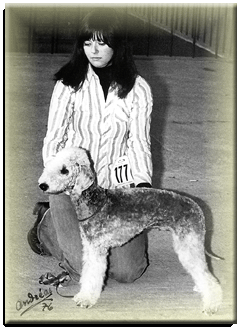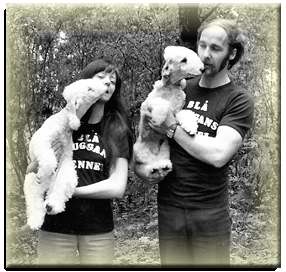 So after marriage 1975 there has nearly only been Bedlington.
But a whippet came in to the family 1981, Colt´s Hound Of Music and she had a litter 1985.
After this Ann-Marie & Rolf has been the breed faithful.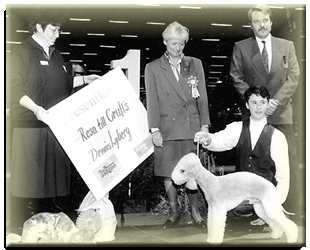 1977 was our son Dennis born and when he was old enough he started to compete in juniorhandling.
He was very good and the crown was when he won the Swedish Mastership in Juniorhandling 1993 at big Stockholm. He was the Swedish representant at Cruft´s 1994.
Dennis win was the greatest ever for us and it is maybe only a BEST IN SHOW win at big Stockholm with a own breed dog who could compete with this.

Dennis live and work both in Stockholm and Gothenburg and have togheter with his girlfriend Millie a French bulldog , "Tudor", born 2015-12-03.